VIBRA - CLEAN Low and medium demand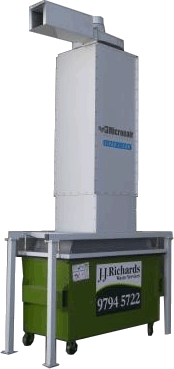 Vibra Clean 4
Vibra Clean 16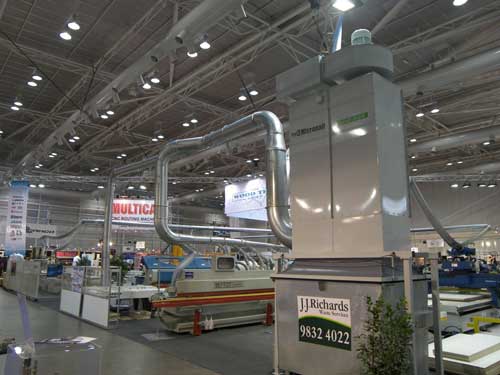 Vibra Clean 8
VC100 ( Tube Filters )
The VIBRA-CLEAN range delivers air volumes ranging from 2,600m3/hr to 46,000m3/hr and the flexibility of either a wheelie bin or larger dump bins. This makes VIBRA-CLEAN ideally suited to the small to medium sized factory or workshop that requires medium to high air volumes with light or variable dust loadings.
Today's sophisticated machines with vacuum workpiece hold-down or complicated collection chutes and ever higher through-put speeds often have difficulty in removing waste material which leads to higher levels of work place dust and reductions in tooling and machine life. To counter this, the VIBRA-CLEAN design has combined the advantages of wide pleated cartridge filters with a range of high pressure, high efficiency fans up to 55kw to provide excellent waste material removal. VC50 and VC100 models are offered where Tube filters are preferred.
With proven vibration filter cleaning technology VIBRA-CLEAN offers a reliable cost effective solution for workshops where online cleaning is not required. ( i.e filters are cleaned when workshop machinery does not require the extractor to operate.) The cleaning process is automated at every shut down so there is no operator involvement.Vibration intensity and duration can be varied to suit different applications.
VIBRA-CLEAN is a modular design using specially made tough spun bonded polyester wide angle cartridge filter, encased in enamelled steel. Models with 4, 8, 16 and 24 pleated filter cartridges are offered - with short filters available where height restrictions require a lower overall extractor height.
For applications where tall 'sock' filter bags are prefered over cartridges - our new VC50 and VC100 models are the answer
With increased requirement for OH&S compliance in the workplace, the VIBRA-CLEAN dust extractor with a filtration capability below 1 micron is perfect to ensure that a workplace that is free from dust and particulate matter.Airflow from the fan can be vented to the outside removing even the finest dust particles from the factory air.
Each machine is Australian built from powder coated galvanised steel with stainless steel fittings to enable the units to be installed either inside the factory or outside where it's fully sealed design makes it weatherproof.
.
Vibra Clean Model Details